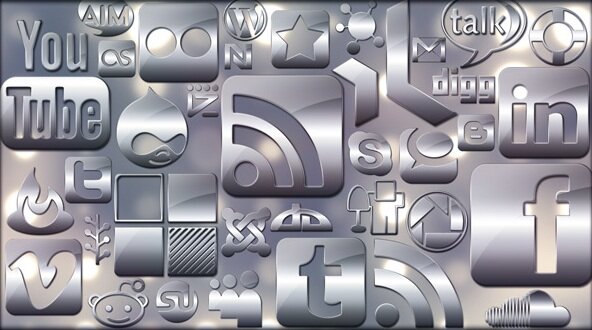 The Future of Social Media in Higher Education – Part 1 ?>
The Future of Social Media in Higher Education – Part 1
This post is the first post in a three part series on the future of social media in higher education. These posts will be released over the next few weeks.
I spend a lot of time thinking about where social media is headed and also, what potential it has to continue to revolutionize the way we learn, communicate, and experience life. In fact I have been thinking about this for a long time and now it is part of my job. So in order to understand where we are going with this series, let me take you back to the beginning. In 2004 when I was a student at the University of Chicago we got thefacebook (now Facebook) – in fact we were one of the first schools in the country to get it. I like to say I was one of the first users – which probably isn't that far off. I was probably user 23,147, but there is no way to know now. As the tech community likes to say – "I was one of the early adopters". Don't forget that Facebook was built by college students for college students.
I remember the day well – when I signed up and got to see if the girl I had met at a party had joined yet, just so I could remember her name. It was simple back then – social media was a way to get information about people. That was it. Now it has morphed into a brand driver, memory saver, and even shall I say it… lifestyle. Some people spend more than 10 hours a day on Facebook – they leave it on their computers when they work and study, and when they are on the go it's on their phone.
I also remember the day when Facebook opened up the network to high school kids – I felt cheated, as if somehow Facebook had been tainted because my friend's 13-year-old sister suddenly wanted to be friends with me. Things quickly went downhill from there, as the network exploded into the minds and onto the computers of over 800 million people. And with this growth the world changed – or well at least a lot of things changed.
I didn't realize how much had changed until the summer of 2010, when I spent time traveling around east Africa. One day in the middle of July I was sitting in a tiny internet café in a small town in Tanzania – the computers were massive desktops and the dial up modems took about 5 minutes to connect. As I waited to check my email I looked around the café. At the seven other computers every single person was checking their Facebook profiles. Halfway around the world in the middle of Tanzania these people were glued to their screens laughing, chatting, and connecting with their friends.
Today Facebook and LinkedIn have hundreds of millions of users. Other social networks like Pinterest and Instagram are growing at tens of thousands of users a day. Social media has changed not only the way we communicate, but also the way we experience life, friends, and moments. Every moment can be captured and catalogued on a screen – with a mobile device in our pockets – and remembered by a server far away somewhere. When we need that memory we can just log on and find the picture, video, chat, post, or message.
What does this mean for higher education? For the ways we will learn in the future? Well imagine 800 million people learning together? Imagine higher ed institutions curating content and offering certifications through social networks? As we experience more and more of our lives online, higher education will continue to move deeper into social networks and there is an incredible opportunity for institutions that have the vision to drive this change.
In the second post we will dive deeper and look at the potential of social networking platforms within higher education.
photo courtesy of flickr user webtreats