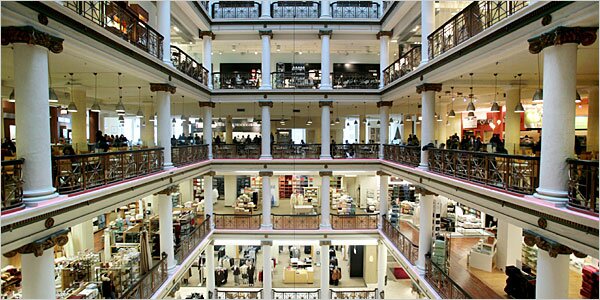 Universities are Department Stores — Is That a Good Thing? ?>
Universities are Department Stores — Is That a Good Thing?
At https://writing-service.org/ there is a list of possible materials for our readers who'd like to learn more about such universities.

There was a day when the department store was the center of American consumer commerce and its social life.

The department store sat atop the retail evolutionary chain — every region had its own: Boston had Filene's and Jordan Marsh, Philadelphia had Wanamaker's, Washington had Hecht's and Woodie's, Phoenix had Goldwater's, St. Louis had Famous Barr, and on and on. Even small towns revolved around the department store — think of Higbeee's, the store at the center of A Christmas Story.
Those days have long since passed. The mall replaced the individual store. Macy's gobbled up all the old brand names and homogenized the department store experience, giving the same name to every store coast-to-coast. Wal-Mart put the small town department stores out of business. We all do a lot of our shopping online now.
We don't really need one store to have everything anymore — we just appreciate having to make fewer stops. So Macy's has become a utilitarian shopping experience. We shrug, and plunge through the doors, not expecting to see anything much better than average.
The American system of higher education long ago got stuck in that same evolutionary chain. Every large American university, when faced with a question of whether to start a new program, said yes. They were driven by the same mentality: the place that offered the most programs and degrees wins.
They built vast collections of degrees, faculty and facilities — mini-cities where everything is available in one place. And now that students have so many ways to study, interest in all-in-one universities is not what it used to be..
Department stores have had the wisdom to pare down and shed some merchandise as shopping patterns changed. My wife fondly remembers her dad taking her to a department store to go book shopping when she was a child. That was in the days before Barnes & Noble. But colleges and universities, for the most part, have not pared down and eliminated weak performers.
What are the hottest concepts in retail? Specialty stores that carry a much greater variety of products in a narrow niche. So DSW has come to dominate shoe sales because it devotes the entire store to shoes while a department stores has only so much space for them. Sephora or Ulta can devote an entire store to makeup and beauty supplies, Crate & Barrel to kitchen and home supplies. Department stores still sell that merchandise but wise consumers know the better merchandise and greater selection are at the specialty store.
Universities are department stores in an era of specialty stores. They are, as a noted futurist recently put it, "perfectly adapted to an environment that no longer exists."
Shopping for a pair of pants is not the same as shopping for colleges. But consumers are increasingly seeing it that way. In the days when the department store still dominated commerce, college was very reasonably priced and therefore seen more as a place of self-discovery. Now, parents say the best reason for a child to go to college is "to get a good job." Study after study emphasizes ROI above all other qualities. One says that unless you are attending an elite institution, "the new rule of thumb should be to avoid paying more for a non-STEM bachelor's degree than you absolutely need to." Another popular survey rates colleges solely by the expected salaries of graduates.
It's pretty near impossible to drive a highway or watch a daytime television program without seeing an advertisement for a college degree or training program of one sort or another. You can blame the for-profits for making the college transaction more crass, but it is not going back to the way it used to be.
College has become a consumer exchange.
Which brings me back to the department store: I don't know if you have been in Macy's lately, but the last few times that I have gone, no one is even glancing at the Sean John spring collection, and whatever else passes for luxury brands. Customers are too busy pawing through the sales racks, looking for a bargain. The less-trafficked departments look more and more neglected; mice run among the mattresses.
Department stores still maintain some of the allure of having most everything you could want under one roof, but it's a lazy approach: Yes, I am not getting top quality, but it was easy and it's good enough.
We've been conditioned as shoppers to expect bargains, at the mall and in academe. Everything at the store is for sale, or it will be soon. If it's not the Valentine's Day sale, it's the End of Winter Sale, followed closely by the St. Patrick's Day sale, followed by the pre-Easter sale, then the post Easter clearance. At colleges, financial aid results in tuition being almost 50 percent off year-round. Colleges just don't advertise their sales quite as widely.
At the Nordstrom at the other end of the mall, a pair of men's Docker's was going for $68. That same pair of pants was on sale at Macy's for $32.
Who would pay that much at Nordstrom? The same people that would send their children at full tuition to an Ivy League school or another college they believed to have a stellar reputation, and not even blink an eye. To them, clothing is an investment. They trust the retailer to sell them good quality, and they need look no further. Those consumers feel the same way about colleges they trust.
So what can colleges learn from retailers?
— The Ivy League retailers still benefit from reputation and trust. But not many can afford to shop there. And the seat at the top can be precarious.
— A lot of the big universities are seen as comprehensive but bland, intimidating in their diversity. They are trying to be so many things that education seems to be just one of their products, and not always the most important one.
— So many other smaller colleges are like dime-a-dozen stores dying for a makeover, the JCPenney's and Foot Lockers of the world, so familiar in their obscurity that most people don't even see them.
As the retail market shows, specialization matters. The stores that choose to serve only a part of the market, but do it as thoroughly and refreshingly as they can are the success stories. They are constantly nibbling away at the business model of department stores by going narrow but deep.
As consumer culture takes over higher education, it might be a good idea for college leaders to think like a consumer about what might make their institution attractive. Does your university want to be "good enough?" Or would it be better to go narrow and deep?
(h/t to John Pulley for the idea for this post.)